Order Solar Slow Cooker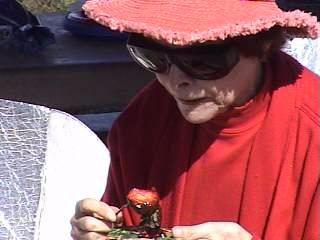 When you order Solar Slow Cooker , it comes with it's own unique reflector, an oven roasting bag and complete directions.A starter collection of recipes and a tip sheet is also included.
Sample solar cooker recipes include:
Marinated and Baked Chicken (2-3 hrs)
Baked Apple Compote (1-2 hrs)
Corn on the Cob, suprisingly baked in the husk and inside of a black sock! No pot needed.(about an hour)
A simple camping meal of sliced summer sausage, cheese, rice (not instant), onion and/or garlic, peas and your favorite spices. (2-3 hrs)
Waterless Hard Boiled Eggs (1/2 hr)
Baked Potatoes (2-3 hrs)
Squash with butter, nutmeg and brown sugar (2 hrs) Top with yogurt and walnuts
Any Pasta Dish (there's a secret trick here) (3hrs)
Couscous (1hr)
Bulgur (2-3 hrs)
Corn Bread (2 hrs)
Remember that any of your favorite slow cooker recipes work!
Also, think ahead for that unique and very "green" Christmas gift. Hint, Hint.
NOW FOR YOUR ORDER SOLAR SLOW COOKER OPTIONS...

---
After ten years of business and over 10,000 cookers sold, we have decided not to invest the large amount of money (for us) and the necessary warehouse space to restock. This was never a get rich project! (However, our grown kids are now solar cooking experts, a grand enough reward of it's own.)
As solar cooking believers, we will keep this site up, for as long as we can, as a resource to all of you interested in cooking for FREE with the sun.
We've included some useful resource links below.

Solar Cookers on Amazon.com


My favorite free source of solar cooker inspiration! Well, worth your visit.

WANT TO SEE WHAT I AM DOING WITH FREE ENERGY NOW?



---
I want the Suntoy Solar Slow Cooker only, at $20 each and free shipping anywhere in the U.S. -----------------------------------------------------------
I need the Suntoy Solar Slow Cooker with the 3 1/3 qt. black enamelware Cook Pot for $34 total- with free shipping anywhere in the U.S.
-----------------------------------------------------------
There are large discounts for group orders of eight or more. LIMITED BONUS! BONUS!! BONUS!!!
My favorite solar cook book is now published by a different company and I lost the right to sell them. However, I can GIVE them away to the first hundred or so customers until my stock is gone! It details a thirty day menu of appetizers, main courses, and desserts. All slow cooked in the sun. Lots of tasty ethnic dishes. Proven results.
I have no idea how long they'll last before I run out!
OUR NO STRINGS REFUND POLICY - No need to gamble here.
I realize that this way of slow cooking might be a reach for some of you, so if you try it and you don't like it for any reason, for any length of time, send it back and we'll send you back your money. Fair enough?
We have had only two returns out of over 10,000 cookers sold in our ten years of business. Once you try sun cooked meals, you'll be hooked!
One refund request was so hilarious they deserved a refund ! Email me for the story. question @ solar-slow-cooker.com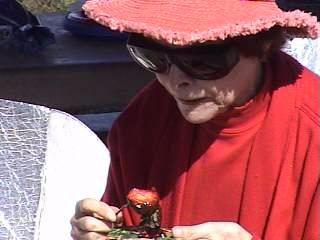 So, dear crockpot fan, go back and select whether you want to order solar slow cooker naked, or paired with the pot on the order links above. We'll get them right out to you via UPS.



Home Page



---