How Does a Solar Slow Cooker Work?
So, here is how you work a solar slow cooker that only weighs 8 ounces.
CLICK ON THE ARROW IN THE PHOTO BELOW - PAUSE- AND THEN CLICK IT AGAIN TO WATCH THE VIDEO
-o-
-o-
-o-
-o-
WEIRD LOOKING, EH? But it really does work!
In fact, ANY OF YOUR SLOW COOKER or CROCKPOT RECIPES WILL WORK. A solar slow cooker cooks just like your crockpot on the "high" setting. (It does more, though.)
You need to know that over 10,000 of these simple solar ovens have been sold and used since 1998. The original cardboard version still saves lives and improves the standard of living for tens of thousands of African refugees. Thanks to Solar Cookers International! (my favorite charity)
JUST HOW DOES THIS SOLAR SLOW COOKER WORK ?
Every solar cooker has three parts. A reflector to collect and concentrate the sun's rays. Something dark to turn the light energy to heat. And some way to trap the heat for cooking.
Can you spot these three elements in this solar slow cooker?
What is unique about this cooker is using a turkey oven roasting bag to trap the heat. There is no heavy glass to break accidentally.
Your food will cook almost exactly like a crockpot on "high". That's about 190 to 210 degrees F. The outside surface of your cooking pot will reach 285 to 310 degrees F.
Like your slow cooker, your food will not burn. It'll be ready to eat when you are!
Yes, there are better solar cookers out there. For a LOT more money! I own them, too. But, I still prefer this inexpensive, lightweight, ultra-portable and easy to repair model. It is just way handier!
Clear shipping tape repairs any accidents to the reflector, short of running it over with the mulching lawnmower. (Which someone actually did! I don't know how.)
This model cooks great meals for tens of thousands of people every year. So, if you are just starting, learn to bake a blackberry cobbler in the sun without spending a fortune on more expensive solar cookers!
You can now EAT VERY WELL without a power cord on your crockpot.
Order now, as we only produce one batch of solar slow cookers per season. When they are gone, they're gone until next year.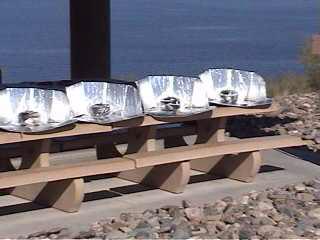 I want to start cooking!

Solar Slow Cooker Home Page

WANT TO SEE WHAT I AM DOING NOW WITH FREE ENERGY? click me